North Coast wool producer, 101, was ahead of the flock
Jean Near has been doing things her own way, ignoring conventions of the times for as long as she can remember. At 101, and with a mind sharper than most people half her age, that's a very long time.
"I've always been determined," Near said.
She has slowed a bit in the past couple of years but continues to live independently on her 75-acre ranch in a wooded river canyon north of Ukiah, where she raises sheep renowned for producing ultra-soft wool in natural colors that range from pure white to black.
Source : The Press Democrat
---
On Leadership: Never too old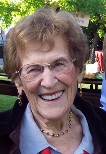 Spotting Lillian Vogel, who will turn 107 on Sept. 11, at the Women's History Day event in March, I was inspired to catch up with her and ask fellow Leadership Mendocino Class VIII members what they recalled about their year with this remarkable then nonagenarian.
"Lillian Vogel made me look forward to being 90," says Linda Rosengarten of Fort Bragg and a Leadership Mendocino Classmate in 1999. Seventeen years later at 106, Lillian Vogel is still a leading presence in our community as she continues to be involved in political, musical and other activities around Ukiah.
Source : The Ukiah Daily Journal
---
VALLEY VIEW               May 2016
AAUW Ukiah Branch                                        Vol. 74 No. 9

PRESIDENTS' MESSAGE
Happy Spring Day!  I hope all of us are getting outside as much as possible and basking in the lovely sunshine!  We can look back at our many accomplishments: visiting Mendocino College and dining, visiting the Adventist Hospital and dining, having a great party with well-known florist Wil Gonzalez.  In December we had our annual Holiday Party and raised significant funds toward educating Ukiah girls and women.  And now the last two events are described below.
Please save the date May 19 at 5 pm for a party and dinner at Yokayo Ranch, 800 Hensley Creek Ranch Road, on the way to Mendocino College.  Follow the balloons.  Vergilia Dakin and her daughter Julia Dakin are hosting the annual Ukiah Branch AAUW general meeting/dinner at their retreat center.  We will be saying good-bye to this year's board and installing the new board.  We will be voting on the officer of the board.  We will be giving a name grant award to one of our members – it is a surprise!  We hope one and all will come.  We'd love for you to bring guests who might possibly join our branch.  We are eager to have new members to help us in our efforts to see girls and women succeed through education.  Mainly we want our members to enjoy the evening getting to know other members and guests and feeling good about all that we accomplished this year.
The evening will cost $25 per person with wine included.  RSVP'S are requested since we will have catering (by Ashlin Garbocci).  Please call Vergilia at 707-463-2567 to let us know if you and your guests are coming.  See you there!
The Leadership Team of Vicky, Bonnie and Vergilia
APRIL HIGHLIGHTS
A VITAL AND BUSTLING CITY OF TEN THOUSAND BUDDHAS
Twenty-five of us had an absolutely inspiring visit on Saturday, April 23rd.
Our member, Flavia Lee-Faust gave us a first rate tour and very thoughtful explanation of their Buddha Hall's special rooms and functions.  She explained to us the symbolic features of the beautiful murals painted on the four outdoor corners of the building.  The landscaping around the Hall was unusually attractive and the proud product of a large group of resident workers.
While we were on this campus a very special event was in progress.  Several hundred guests from around the Bay Area were in residence and participating in a three week Repentence and Bowing Ceremony.  When we walked through the Buddha Hall we had a chance to see these guests arriving for a meal offering recitation just before the lunch hour.
Our visit with Susan Rounds, the President of the Dharma Realm Buddhist University, was equally rewarding.  She gave us a lot of their history and details of their group instruction dynamics.  An accreditation visit had just been completed and their staff is quite hopeful to be fully accredited and ready to see their enrollment expand in the years ahead.
The location of a college BA and Masters program on a monastic site makes this University most unique.  And the evident spirit of students and teachers really caring for each other was also found to be most inspiring by the visiting evaluation team.  We in AAUW will be most happy to celebrate with the University on June 22 when their accreditation may be announced.
Our group lunch at their restaurant was tasty and nicely served.
In order to learn about programs now being offered by the University to the public, our members are advised to contact Flavia or Bonnie to be on the University's email listing.
Thank you Susan and Flavia, for your kindness in showing us the campus and being  of example  our AAUW mission of supporting talented women as part of our organization. 
Bonnie Carter                                                                
Footnotes:
We would like to get a written inventory of any and all AAUW items that you may be storing for us; e.g. the easel at the Ukiah Garden Club House (joint ownership).  Please get your information to Vicky Gilson at 391-0062 so she can start compiling the list.
WILLITS SATELLITE MEETING:   TUESDAY, MAY 31, 6 PM AT THE WILLITS PUBLIC LIBRARY.   ALL WELCOME.  RSVP JUDI BERDIS AT 456-4444.
PROGRAM UPDATES
CANDIDATE FORUM MAY 10
The pre-election Candidate Forum presenting local candidates and issues on the ballot for the June 7th primary election will be Tuesday, May 10th at 6:00 pm in the Ukiah City Council Chambers. Our Ukiah branch is a co-sponsor of this forum, along with Mendocino Women's Political Coalition, Ukiah Saturday Afternoon Club, and the Ukiah Daily Journal. Editor KC Meadows will moderate.
At 6:00 pm, we will meet the two candidates vying for the one open seat on the Mendocino County Superior Court, Keith Faulder and Patrick Pekin. At approximately 6:45 pm, we will hear from incumbent First District Supervisor Carre Brown and her challenger, Montana Podva.  Following the supervisorial candidates, a panel of advocates on both sides will debate the merits of Measure V which asks Mendocino County voters to "declare intentionally killed and left standing trees a public nuisance". 
We have co-hosted these forums in advance of local elections for over 20 years and they are well attended, educational, and well timed to coincide with the election cycle. Mail voting for the June 7th election starts on May 9th. Questions from the audience are encouraged. Please plan to attend to meet these candidates in person and hear both sides of Measure V up close and personal. 
                                                         MEMBERSHIP   
We are sorry to report the passing of member Joan Borecky on April 2.  She was a president in 2008-9 as well as our parliamentarian this year .
New members this month are Sulin Bell and Jean Stirling.  Welcome to the Ukiah Branch! Remember, dues for 2016-17 are due and payable.  Dues for most members is $84 so please make your checks payable to Ukiah Branch, AAUW and send to Sandy Spencer, 1660 Alicante Lane, Ukiah.  Remember that $46 of your National dues is tax deductible.  Dues for Life members are $15.  Please contact me for dues amount if you are a student.                       
TECH TREK
Kristana Arp and TT Committee have chosen the four girls and two alternates to fill the spots at Tech Trek Camp at Sonoma State University this summer.  Now all the fun begins for them, as they begin to get the info about what to bring, when to arrive, etc.  There will be one final meeting with the girls and their parents soon to clear up any remaining questions they have.  As you can imagine, the four girls are really looking forward to Sunday, June 16, when camp begins
PUBLIC POLICY
Human Trafficking is addressed in an article by a member of the Healdsburg branch and is available online on AAUW's national website and the California website.  Both are excellent resources for these issues.
Val Muchowski, Public Policy Chair                                            
                                                              SCHOLARSHIPS
We are proud to announce the following women will each receive a $1000 scholarship to Mendocino College from our Branch:  Tanya Aaron from Willits, Dawn Kline from Ukiah, and Brandy Noriega also from Ukiah.  The awards will be presented on May 13 at 5:30 PM in the Center for Visual and Performing Arts Theatre.   Please join us in congratulating them on their hard work and wishing them success with their goals.
INTEREST GROUPS
Arts
Ukiah Symphony presents the last program of the season on May 14 (8 PM) and May 15 (3 PM) at the Mendocino College Center Theatre.  First Friday will be May 6, 5 PM downtown to stroll at all the galleries and exhibits. 
Bookmarkers
The book discussion group will meet on the afternoon of Thursday, May 12th, 3:00 pm to discuss the The Bees by Laline Paull.  The meeting will be at the home of DedeLedford, 3500 Ruddick-Cunningham Road.  Please RSVP to Dede at 462-6296 or comice@pacific.net
Qi Gong
Contact Flavia Lee-Faust at 485-8775.
Dine
We will be having Sunday Brunch on Sunday, May 22, at noon at the Blue Wing Saloon, 9550 Main Street in Upper Lake.  Live music is featured at Sunday brunches.  Please call 707-275-2233 to add yourself to the Spencer party.  Guests are welcome.
Mystery
Travel
Newsletter via e-mail: Due to the increasing burden of printing and mailing newsletters, most organizations are switching to e-mail letters. We are now asking our members who do not have access to an e-mail medium to try to find a friend or neighbor who would be able to print out our newsletter for them on their machine.
If you want to have something pertaining to AAUW appear in the newsletter, please wait until the 25th of the month and send me the entire message in one email. I do not make up the content: I can only print what I receive, so I depend on all the officers, interest group leaders, and other members, to send me what you want to have included. Many thanks – Paloma
Newsletter Staff: Editor: Paloma Patterson (619) 241-6457, palomapatterson@gmail.com
In principle and practice, AAUW values and seeks a diverse membership.
There shall be no barriers to full participation in this organization on the basis of gender, race, creed, age, sexual orientation, national origin or disability.
Sponsorship listed in this newsletter does not imply endorsement by AAUW.