FALL DINNER MEETING – SEPTEMBER 28, 2021
I am looking into having our Fall Dinner Meeting at Rivino Winery catered by their in-house chef. Before I can confirm this, and send them a deposit to hold the Tuesday, September 28th date, we need to know from you if you intend to come to this dinner meeting. It is to be held outside at their beautiful spacious venue, it will cost between $25-$30 per person, you are welcome to bring guests. The dinner will include appetizers, a choice of entrees (Salmon, Mediterranean Chicken or Vegetarian) and dessert. You can purchase their delicious wine at the no-host wine bar. We need to have a minimum of 40 people. To date we have 36 guests attending. Food will be brought individually to each table on eco-friendly disposable dinnerware. Covid safety standards will be followed.
Please send me confirmation of your intention to attend and if you are bringing guests ASAP. This is important so we can determine if we have enough people to make this dinner possible. Some of you asked if men are invited, and they certainly are!
Sulin Bell – Interim President
BOOKMARKERS
We will meet September 16 at 2:00 p.m. under the canopy at 3425 Deerwood, Ukiah.
The book is Three Martini Afternoons at the Ritz by Gail Crowther, interconnected biographies of poets Sylvia Plath and Anne Sexton, by a literature professor, and/or favorite poems.
Please join us. We welcome new members. For information call Katie, 707 228-6143 or katieg@pacific.net.
SCHOLARSHIPS
In keeping with the national theme, "Equity now, together we can achieve a vision of equal opportunity for all" we will be asking for your help to continue all three of our local scholarship programs. Over the years we have supported Tech Trek for middle school girls, Accolades at Ukiah High School and Scholarships for returning women at Mendocino College.
Middle Schools: Girls from Pomolita, Redwood Valley Middle School, River Oak and Redwood Academy who will enter eighth grade in the fall, have the opportunity to go to college for a week. STEM curriculum is taught by volunteers, professional women in these fields, many of them members of AAUW. AAUW of California member Marie Wolbach founded Tech Trek in 1998 at Stanford with the help of an AAUW Community Action Grant, and our girls were some of the first to enjoy the experience.
This past year the girls only had a virtual experience but we certainly hope next year they will be able to go in person. The Ukiah Tech Trek fund pays $1,000 for each girl to attend the in-person camp. The branch paid $5,000 out of the Tech Trek account for five girls to attend camp in 2020. Since that camp was cancelled, we have a balance left over to pay for girls to attend future camps.
Ukiah High School: We have occasionally given a scholarship to a college-bound senior in honor of a former member. Most recently we have awarded one in memory of Evelyn Broaddus and another in memory of Jean Near. We also have an ongoing program called Accolades where AAUW awards a certificate and a stipend of $100 to four girls who have shown exceptional promise and would benefit particularly by being recognized. The teachers recommend the girls to the counselor whom we work with. We feel that contact with our local high school is an important part of our mission to encourage girls' education.
Mendocino College: We sponsor several scholarships for women who are returning to college after at least five years, are taking 12 units of academic courses, minimum GPA of 3.0 and planning to pursue their education in a four-year college, in academic disciplines such as teaching, STEM, and political science. We give from 2-4 scholarships of $1,000 depending on your generosity. The scholarships are presented when they enroll in the next year's courses.
As AAUW may find it difficult to meet this year, we are asking for your donations now and will again with envelopes at the Fall Dinner and during the holidays. We need to know how much we have for the college scholarships before January. If your checkbook is handy, please send your check to AAUW Ukiah to PO BOX 1626, Ukiah, CA 95482. You may specify your favorite scholarship or just send it for all of them.
Katie Gibbs, katieg@pacific.net
Programs for 2021-2022
Janet Chaniot is developing three interesting programs with this year's theme being An accessible and just world for women. She has invited Dr. Tim Karas, the new President of Mendocino College, to speak; Dr. Karas, Norma Marks and Janet are developing programs in affiliation with the college–including offering students free AAUW membership, which will be supported by the college. In addition, there will be programs for family support services and one for women in the economy.
Val Muchowski, in addition to her work with Public Policy, is working with Katarzyna on the Women's History Day in March. Kristana, Katie Gibbs and Mary Ann Villwock continue working on Tech Trek, Scholarships and Accolades.
LEGISLATIVE UPDATE – SEPTEMBER 2021
Legislature is currently in summer recess
Key Dates: July 14 was the last day for Policy Committees (e.g,, Health, Education) to act. The Legislature's summer recess began July 16th and will reconvene on August 16th. August 27th is the last day for fiscal committees to meet and report bills.
AB92—a bill related to preschool and childcare services and fees that we are co-sponsoring, is now in Senate Appropriations.
Of our initial list of 39 bills on which AAUW California took positions or is watching, one has been signed by the Governor (re-hiring employees displaced by the pandemic) and 18 are still active.
State Budget was signed by Governor Newsom
A one-time influx of federal funds plus unanticipated California tax revenue increases have enabled addressing some issues that will significantly improve child care and education.
The budget:
Adds 200,000 more subsidized child care spaces, which would almost double the state's total supply.
Increases the amount the state pays to child care providers for each subsidized child, (although the details have yet to be ironed out).
Creates transitional kindergarten (TK) for all 4-year-olds.
Extends the school year and school day for all low-income elementary students.
Provides $115 million to develop pathways for an associate degree in which students don't have to spend money on textbooks.
Provides state-funded breakfast and lunches for all students, starting this fall.
Invests $2.8 billion to turn about a third of the state's 10,000 schools into community schools that provide health care, family services, and after-school programs through local partnerships.
Provides $4 billion for a mental health and behavior system that will provide screenings, counseling, and therapy from birth through age 25.
What I need to know: AAUW California is co-sponsoring or watching 39 bills. 18 are still active; one dealing with childcare and education has been signed; 17 bills have not been decided yet.
Track them on https://www.aauw-ca.org/documents/2021/04/bill-tracking.pdf/
Val Muchowski, Public Policy
LEGACY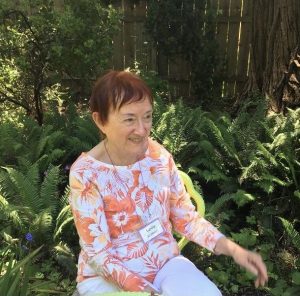 Sandy Spencer in her will left half the money from the sale of her house to the AAUW Foundation. She left the other half to University of Southern California for scholarships. Sandy wanted to follow in the footsteps of award-winning authors, scientists, scholars, changemakers and community leaders.
AAUW is providing nearly $5 million in funding to more than 260 fellows and grantees in the 2021-22 award year. These exceptional recipients will pursue academic work and lead innovative community projects to empower women and girls
through a legacy left by one of
their members.
The Willits AAUW is able to fund scholarships and workshops for young women through a legacy left by one of their members. What about a local legacy to fund our work in equity for young women? Your legacy could provide funds for scholarships for needy girls and women. It could help fund Tech Trek which sends middle school students to Sonoma State for a science and technology program, Accolades which honors good citizenship of high school students, scholarships for students at Mendocino College and help fund post-graduate fellowships.
Would you consider a local legacy? Will you be next to help fund Mendocino girls and women in our quest for equity?
PUBLIC POLICY REPORT – AUGUST 2021
WOMEN TAKE ON MORE STUDENT DEBT THAN MEN … BUT ARE PAID LESS AFTER COLLEGE
Deeper in Debt: Between 1976 and 2014 the price of college attendance more than doubled, but household incomes barely budged. Today most students must bridge the gap between income and cost with student loans—followed by student debt. Women take on more loans and take longer to repay their debt, thus women hold almost two-thirds of the outstanding student loan debt in the United States.
Following graduation, women repay their loans more slowly than do men, in part because of the gender pay gap, and they are also more likely to struggle economically during repayment. This means that women may have to put off saving for retirement, buying a home, or starting a business.
Student debt is a systemic and national problem that disproportionately impacts women. AAUW members can help make changes to reduce women's student loan debt burden:
1. Congress must protect and expand Pell Grants for low-income students to reduce the amount of student loan debt they must take on to complete a degree.
2. State and federal legislators should increase funding for public colleges and universities and support efforts to move toward tuition- and debt-free options for students.
3. The department of education and lawmakers should make it easier for students to enroll in income-driven repayment options to help mitigate some women's financial difficulties.
4. Institutions can address the academic and financial needs of traditional and non-traditional students, such as access to childcare. Learn more and take action at AAUW National.
This might be a good time to write President Biden about the need to help people with student debt.
Val Muchowski
Public Policy
PRESIDENT'S NOTES – JULY 2021
From retiring co-president, Janet Mendell:
It is hot today, and more to come. Stay hydrated, be cool. As Sulin mentions in her comments below, the picnic at Kristana's was a wonderful success. New energy and perhaps enthusiasm were evident.
Perhaps someone will step up with that new-found enthusiasm and take on the positions still available on the local AAUW Board. Please e-mail us about your questions and possible interest.
Janet Chaniot has been engaged in developing an interesting set of programs. Tech Trek continues. Scholarships continue. Women's progress with equality and programs about success in the workplace continue. Our relationship with Mendocino College continues. Public policy and national AAUW engagement in politics continue.
Our Chapter is in dire need of new leadership. Any ideas?
From your other retiring co-president, Sulin Bell:
It has been quite a ride acting as a co-leader, first in a regular year and then through a Covid year. There have been changes of some of the board members, changes from in-person meetings to Zoom meetings, and now back again; changes in the kinds of programs, in scholarships, in the forms of tech trek, accolades, fundraising and dinner meetings–and now live events returning and new ones developing.
As Janet said above, we are projecting an exciting coming year with not only continuity of our favorite programs but the development of new relationships and experiences for both new and old members. We are hoping that some of you are planning to become more involved with our activities. I think you will find active involvement very rewarding on many personal as well as community levels.
We are currently revising the yearbook that you will receive toward the end of September– thanks to a wonderful and talented friend from Willits who volunteered her services.
Also, now that Dora's Gourmet Café has unfortunately closed there are possibilities on the horizon of two new restaurants at which we might hold our dinner meetings. We all love delicious food while dining together with friends and hearing interesting updates from AAUW's various involvements. I plan to see you there!
Hoping we are fortunate enough to have a safe and reasonably cool summer.
THE PICNIC FUNDRAISER
We are happy to report that our first in-person event in over a year was very successful! We were all so happy to see each other, unmasked and vaccinated, with smiling faces and lots to share. A special guest, the new Superintendent of Mendocino County Schools Michelle Hutchins attended, and became our newest AAUW-Ukiah member!
Much needed help was received from Kyle and Norma's husbands in picking up and returning borrowed chairs and tables from St. Mary's Church, along with setting up and breaking down help from other board and chapter members.
A few of our members had unfortunate circumstances arise that prevented them from attending; we missed them and hope all is working out best as possible.
The location, Kristana's beautiful back yard, was lovely, set up with white table cloths offered by Irma, roses from Norma's garden, and colorful umbrellas and sail cloth providing shade.
We are grateful for the generous contributions to the silent auction which raised about $1,500 toward ongoing expenses of our chapter.
Looking forward to a coming year with some exciting programs, events, and surprises currently in the works.
Back in the Saddle – YIPEE! by Janet Chaniot
After many months of seclusion and often lonely isolation, we are finally able to think about meeting face-to-face with family members, friends, and groups of activists who are helping to make our world a better place. One of these groups is AAUW.
To pay our bills and support the mission of AAUW to help women achieve their educational and career goals, our group held a successful picnic and silent auction in June. What a fun and purposeful meeting it was! With that event as an example of what we can do together, your leadership team has begun to put together a calendar of events to support women and girls as they work toward achieving their goals with scholarships and a new partnership with the Mendocino-Lake Community College District (MLCCD).
First on our list, though, is to complete the team by inviting volunteers to fill the organizational needs of our group for the next year. At the least, we need a president or co-president and a co-program chair. So please think about calling me (972-6722) or responding positively to a call from me to fill one of these positions on the leadership team. It's not much work, and the rewards are immense!
The following notes are a draft of a calendar we are thinking about offering our members and friends for the 2021-22 year. We hope to hear from all members and friends as these plans are finalized and to see you all in attendance at each event as it happens. Your comments and suggestions are welcome.
Theme: An accessible and just world for women.
Programs: (Locations to be announced)
Expanding our reach: The partnership between AAUW Ukiah and the MLCCD
Creating healthy families (An equitable and just world begins with the family.)
Considering women in the economy. (Follow the money.)
Calendar:
September: Dinner (Restaurant or catered)
November: Introducing the Partnership

To be invited: Dr. Tim Karas, MLCCD Superintendent/President, and others

December-January: Fundraiser
February: Family Support Services
March: Women's History Day
April: Finding a Place in the Economy To be invited: West Company and MC Career Center representative
May: Celebratory Year-end Dinner
---
                     2021 PROPOSED PUBLIC POLICY PROGRAM            
The AAUW California Public Policy Program establishes policy directives to guide our members, inform our legislative priorities, and serve our mission. Every two years we re-assess these directives to determine if updates need to be made in light of an ever-changing cultural and legislative landscape. Members are invited and encouraged to make suggestions through a statewide survey, which was conducted in Fall of 2020, and resulted in comments from over 600 of our members. The AAUW California Public Policy Committee has reviewed all submitted comments and decided on a number of changes for the next two-year period of July 2021 through June 2023. The proposed changes were presented to and adopted by the AAUW California Board of Directors and will be put to a vote by the membership April 16 – May 7, 2021 as required by our bylaws. Thanks to all who submitted comments and thank you for your vote.               
The AAUW California Public Policy Program establishes policy directives that will guide our members, inform our legislative priorities, serve our mission to advance equity for women and girls through advocacy, and are consistent with our values of achieving fair and equitable opportunities for our diverse society. Toward that end, AAUW California advocates policies that promote, enhance and ensure:
Economic Security for All Women
Equity in the workplace
Enforcement of anti-discrimination statutes
Security in retirement
Access to job training for career development
Work-life balance, including access to quality affordable childcare and paid sick and care-giving leave
Equal Access to Quality Public Education for All Students
Vigorous enforcement of Title IX
Adequate and equitable funding at all educational levels, including pre-school and post-secondary
Instruction in STEM fields
Opposition to the use of public funds for schools that do not meet public school civil rights and accountability standards
Social and Racial Justice for All Members of Society
Self-determination in reproductive health
Equal access to quality affordable health care, housing and a healthy environment
Freedom from violence in all its forms and wherever it occurs, including racially-motivated violence
Guarantee of civil and constitutional rights for all, including all forms of identity and expression, and all family structures
Protection and expansion of voting rights
Support for United Nations sustainable development goals which address human rights and women's and girls' concerns.
     MEMBERSHIP   
Welcome to the Ukiah Branch! Remember, dues for 2020-21 are due and payable.  Dues for most members is $94 so please make your checks payable to Ukiah Branch, AAUW and send to AAUW-Ukiah, PO Box 1626, Ukiah, 95482-1626.  Remember that $59 of your National dues is tax deductible.  Dues for Life members are $15.  Please contact us for dues amount if you are a student.                       
 In principle and practice, AAUW values and seeks a diverse membership.
There shall be no barriers to full participation in this organization on the basis of gender, race, creed, age, sexual orientation, national origin or disability.
Sponsorship listed in this newsletter does not imply endorsement by AAUW.