In the beginning…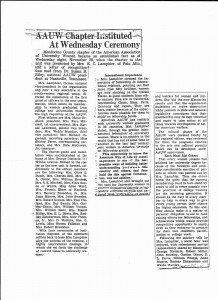 Welcome to Year ONE of Ukiah AAUW
Ukiah Branch History in the '60s
After President Francine Bearden returned from the California State Convention, she shared her inspired program ideas with the members and the Gourmet Committee was born.  Two or three countries were selected for each year.  Research on the countries began with an emphasis on food to serve at a dinner representing each county/  Music, decorations and occasional entertainment made these programs vital.  Marvelous menus were created, containing recipes and artistic covers that were admired by members and guests.
Photo of a sampling of menu covers to come later and the photo of some of the Irish dinner attendees
Irish dinner committee
UKIAH BRANCH IN THE 70s:

Ukiah Branch of AAUW has always been a leader in the arts and community projects.  One of their pioneer projects was a Quilt Show held at the Home Arts Building, Ukiah Fair Grounds as a fund raiser for scholarships and fellowships.  Many of the quilts shown were antiques from early Mendocino County women as well as those made by Ida Middleton's Advanced Clothing class at Ukiah High School.


A cooperative project with Soroptimst and the Ukiah Branch resulted in a Self Guided Tour of Ukiah Landmark Homes printed in a booklet format with drawings by Francine Bearden, photos by Larry Kier, and edited by Nancy March and Margaret Sweeley.  It's a marvelous compendium of early Ukiah and maybe it needs an update from 1976 to accompany the new walking tour guide of Ukiah.